Five years ago, I had no idea my life was about to change. Then, this little fur ball came barreling straight into it with his head up and his tail wagging. We've been inseparable ever since.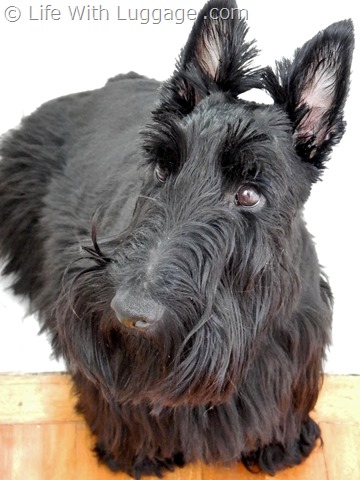 Today, Seamus is five. On one hand, I feel like he's always been here with us but on the other hand, he's still a puppy to me. I could never imagine life without him – but just in case I could, he's always happy to remind me how great he is.
This is what I wake up to each morning. (That's his nose.)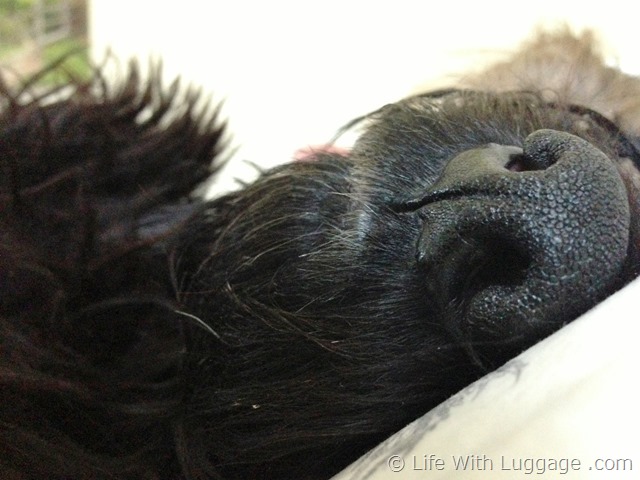 There isn't a person alive who has met Seamus and not fallen instantly in love. He is, above all, a character. He enjoys the finer things in life and he loves to sleep late. He adores being the center of attention and he will give you a very dirty look if you ignore him. Each of his haircuts cost more than a year's worth of mine, and he gets far more compliments on them. Anyone who calls or writes will ask how Seamus is doing. He even gets his own Christmas cards. I am pretty sure the Japanese exchange students next door have made him Internet famous by now. In his head, the city sidewalks are his red carpet and he is a little star, loved by all (even the mailmen!).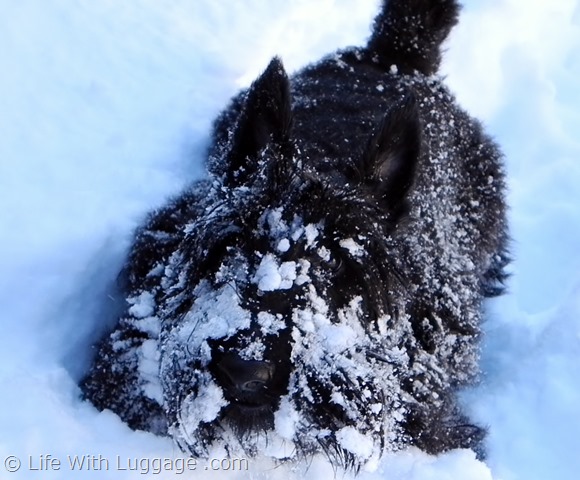 This kind little soul doles out the hugs and kisses freely, and loves to sit in laps. He never misbehaves: no accidents in the house, no fights with other dogs, no rooting through the trash can, no eating toys, no chewing shoes. There were a few incidents in the puppy months (like the time he toilet papered the kitchen somehow, and the time he chewed the brim off of Alan's Red Sox hat, and this other time when I woke up to him eating my hair…) but these were very minor issues in exchange for having the best dog around.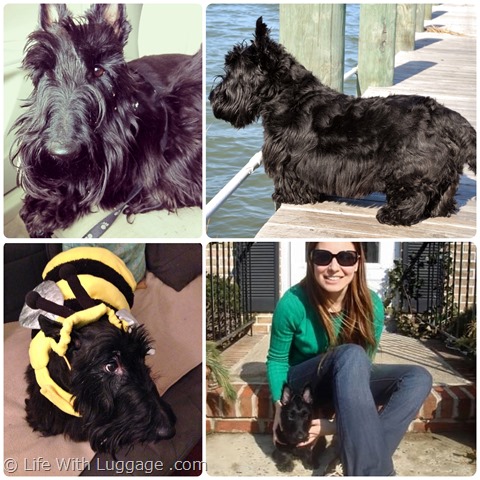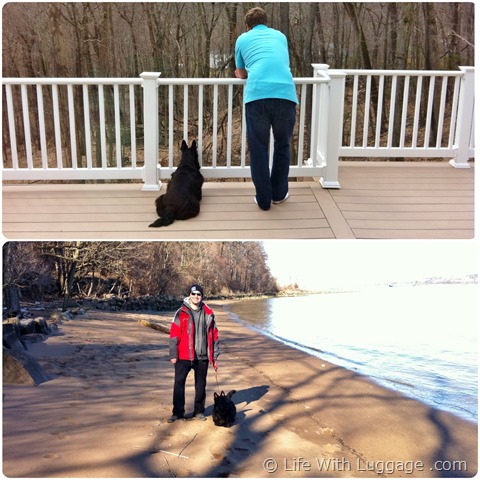 Seamus has a very advanced palate, so there is no better way to celebrate his birthday than with food. He can tell the difference between organic dog biscuits and those fake bacon ones. He prefers his eggs scrambled with some cheese, but he'll also accept poached or hard boiled. He has an undying love of frozen broccoli, yogurt, peanut butter, mashed potatoes, cheese, and chicken. (Not together, of course. He's not a philistine.)
We spoiled him from very early on. (Seriously, how could you not?) People joked that I should remind him sometimes that he's a dog. Well, he never figured that out and I'm certainly not going to be the one to tell him. In Seamus's mind (and in ours), he's just one of the three musketeers in the house. It really is all for one (him).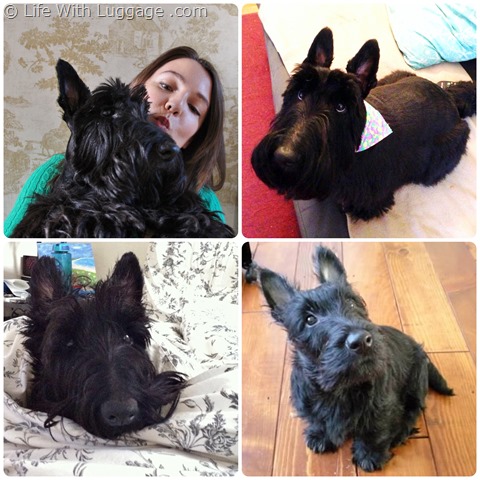 So, to one of my very favorite travel companions and loves of my life (Alan is the other, obviously), I'd like to say…
Happy 5th Birthday!
We were temporarily homeless last year on his birthday, so this year he gets the royal treatment: his favorite flavor of Frosty Paws and homemade dog biscuits. I saw this recipe for Pumpkin Pie Biscuits in the Everything Cooking for Dogs Book and modified it a little. Here's the way I made them.
Ingredients:
1.5 cups unbleached flour
1 cup rolled oats
2 teaspoons baking powder
½ teaspoon of cinnamon
2 tablespoons extra virgin olive oil
¾ cup pure pumpkin
¼ cup all-natural, unsalted peanut butter
½ cup water
Directions:
Mix all of the dry ingredients together. Create a well in the mixture and pour in the oil. Mix again, then stir in the pumpkin and peanut butter. The dough will be really tough to mix, so do it as best as you can and then add in the water.
Flour up your hands and knead the mixture until it forms a smooth ball of dough. Roll it out on a flat surface until it's about ¼ inch thick, and then use cookie cutters to cut out the biscuits.
Place biscuits on a cookie sheet or large pizza tray and bake at 325 degrees for 12-15 minutes. Turn the oven off and leave the biscuits in for 20-30 minutes, until they're firm and dry. Then cool them on a rack.
The recipe says it makes 30 biscuits, but I had so much dough left over that I think I might end up with 45 or 50 once I bake the second batch.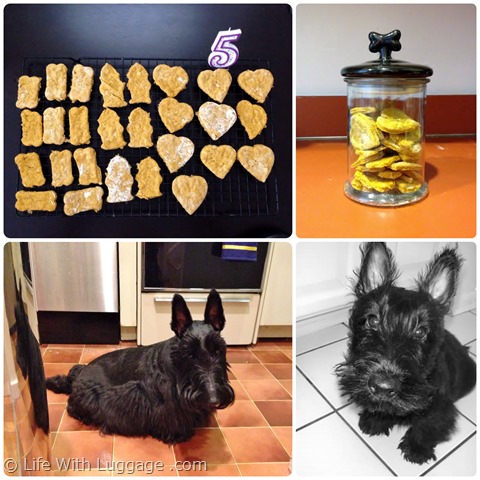 Yes, that bottom left photo is Seamus guarding the oven while they baked.
I cut them into fire hydrants, hearts, and bones. They don't exactly look Pinterest-worthy because of the rolled oats. Seamus loves them, but they just taste like flour to me. (Admit it – you were dying to know!)
Happy birthday, Seamus!